XXVIIIth Board of SA Helix
President
Lieke_1
Hi! My name is Lieke Troost and I'm the new president of SA Helix. I'm born and raised in a village in the east of the Netherlands. Applying for Biomedical Sciences in Maastricht was a last minute decision, but thus far I am really enjoying my first year. This year I have been part of Helix as president of the Gala committee and I have partaken in events with much joy, but I wanted to be more active and possibly change the association for the better, so I applied for a board year. Aside from being part of the gala committee again coming year, I will be in charge of the board meetings, general assemblies and presidents meetings. Despite the current crisis I am excited to start this year and can't wait to welcome members to the Helix room!

Secretary
Johanne_3
Heyy! I am johanne and I will be the new secretary of SA Helix. I was born in Maastricht (yes, in our MUMC) but I was raised in Belgium, right across the border in Limburg. I've studied Biomedical Sciences for 2 years already, with no real vision of the future. Luckily I am really enjoying this and I felt so invested to add a board year to it! My favourite event that we host is camp, and i'm going to cry if Corona doesn't let us host it this year. My job as a secretary entails taking the minutes during board meeting and GAs. Also, I am in charge of the Helix mail and I send out the monthly newsletters.

Treasurer
Luca_1
Hello everyone!! My name is Luca Santus and I will be the next Treasurer of SA Helix. I come from the middle of nowhere in Northern Germany, 10 minutes away from the Baltic Sea. With the original goal of studying medicine, I ended up studying BioMed in Maastricht, which then made me realize that being a doctor for 40 years would be too one-sided and might bore me.
Camp and Introweek were the first experiences I've had within Helix and I directly joined the activities committee with the reason of not missing any fun activities and parties.
I applied for the board because I wanted to push it a step further and take more responsibility for the association and the members. In the future, I'll be handling the money together with the help of FSC and will be taking over the excursion committee.

Vice-President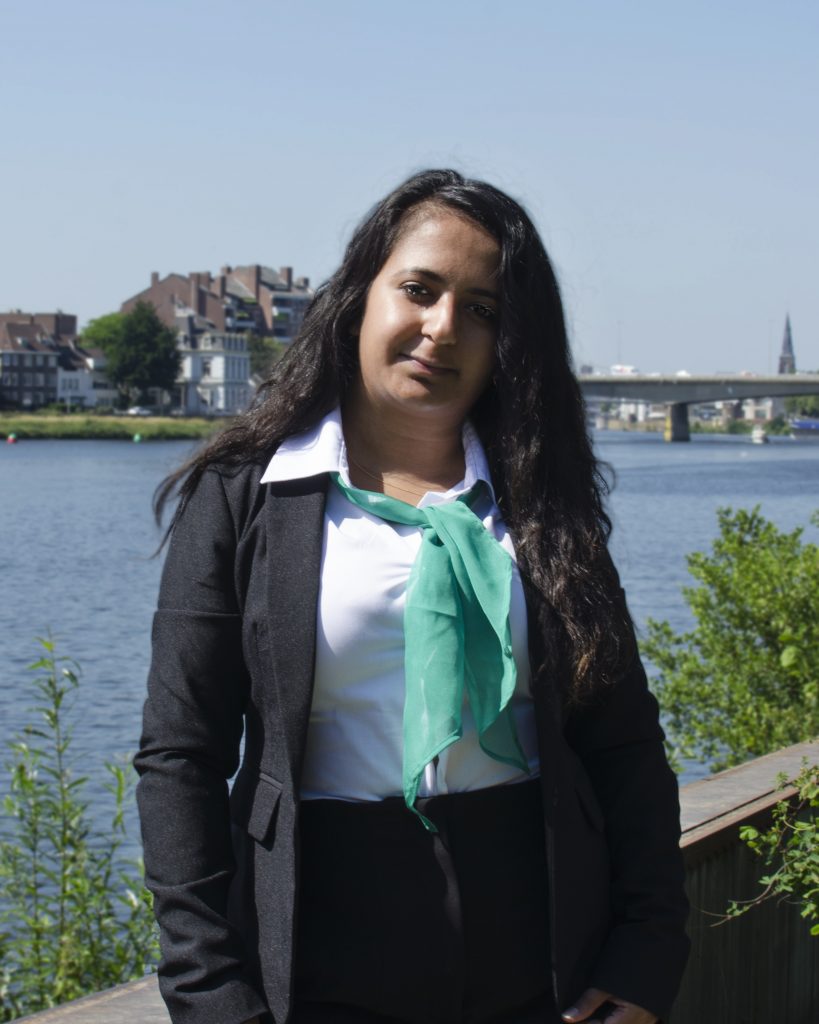 Hey hey! My name is Khushbu Mirchandani, and I am the new Vice-President. I was born and raised on a small island in the Caribbean called St. Maarten. I do hold the Dutch nationality but ethnically I'm Indian. The Biomedical Science Program in Maastricht is what I wanted to pursue after the IB program. I was a member of Helix since being introduced to it on the Faculty Introduction Day and have been part of the Camp Committee. With growing interest, I applied for the Board and in the upcoming year I will be welcoming all the new members. See you in the helix room, introduction days and graduation ceremony!

Head of Education
Hey guys! My name is Terence de Meza, and I am going to be the next Head of Education of SA Helix. I was born on a small Dutch Caribbean island called Curaçao, after which I moved around to Aruba, the Netherlands, India and now back again. Because I moved around so much I got very used to an international environment, which is why after IB I chose to come to Maastricht. I became a member of Helix during the INKOM and got to know many of my friends through the Camp. Within Helix I was a member of SEP 1 and the Excursion committee. I applied for the Board because I wanted to get more involved with SA Helix, and to understand and help improve the education for others studying Biomedical Sciences. My role next year will be to be incharge of the different SEPs, as well as attending numerous meetings to discuss and improve the education within Biomedical Sciences.

Head of Activities
Christine_1
Hello everyone, my name is Christine Verhagen and i'm going to be the new Head of Activities. I am Dutch but I was born and raised in Milan, Italy, which is why I was very attracted by the internationality of Maastricht. After attending many events this past year I was interested in knowing what happens behind the scenes, which is why I decided to apply for board. I am very excited to work together with the Activities committee, Education committee, Sports committee and Randwyck committee to organize many fun and memorable events. I hope to see you all on the dance floor when we finally can go back.

Head of External Affairs
Martin_2
Hey everyone! I am Martin Uerlich and I will be the next Head of External Affairs. I was raised in a small village near the western coast of Germany and after graduating from high school I lived a year in Finland and then in Lithuania. Living in other countries and being among internationals seems exciting to me and that's why I chose the Biomedical Science Bachelor here at UM. After I joined SEP 1 during my first year I decided to step up my game and apply for a Board position for the coming year. I want to get more involved in the organization of SA Helix and help to make our student life easier. I hope we will see in the helix room next year!